Hotel Welcome
The Hotel Welcome in Nice, France is ideally situated between Nice and Monte-Carlo, has been totally refurbished, all of its 36 air-conditioned rooms overlook the bay and Cap Ferrat. Since December 20...
Read more
---

Hotel Crillon
At number 44 Pastorelli street, ideally located in the center of the town, stands the family Hotel Crillon,in Nice, France. You will notice the typical pink ochered painted facade, in the pure style ...
Read more
---

Arche
Let's go back to the 70's when the Shop Arche in Nice France began. Just for fun, because lately it seems that the 70's are recycled, paradied, resurrected with a mixture of nostalgia and fatality. ...
Read more
---

Star Hotel
The Star Hotel offers you the opportunity to spend a great budget stay in Nice, France city center, just 400 meters from the famous Promenade des Anglais seaside promenade, and a stone's throw away fr...
Read more
---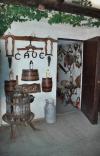 Domaine De La Source
The Wine grapes are picked at Domaine De La Source in December, when the fruit is ripe. It is one of the smallest vineyards of France, nestled in the hills of Nice France. Since 1941, "Bellet&quo...
Read more
---
» Find more in Nice, Alpes-Maritimes