Seaview House
Seaview House is located in the heart of historic Queenscliff, Victoria in Australia, within easy walking distance of shops, beaches, ferry terminal, eateries, galleries, museum and tourist attraction...
Read more
---

Trafalgar Cottage
Trafalgar Cottage is ideal for travelling couples to relax and enjoy, so before you explore classic Queenscliff, Victoria, in Australia, settle in and make yourself at home in the private and cosy ful...
Read more
---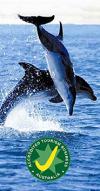 Sea All Dolphin Swims
Operating from historic Queenscliff, Victoria in Australia, Sea All Dolphins Swims is a nature based tourism business offering a wide range of marine experiences. Exploring the rich and diverse water...
Read more
---

Waratah at Queenscliffe
Waratah at Queenscliffe in Queenscliff, Victoria, Australia, operated as a guesthouse in the early 1900's. Come and experience Waratah at Queenscliff as it is today. You will feel at home in the uniqu...
Read more
---

The Queenscliff Hotel
The Queenscliff Hotel is a heritage treasure-one of the great 19th Century seaside resort hotels. An ideal place for a peaceful stay. For intimate dining or weddings, celebrations, meetings and semi...
Read more
---
» Find more in Queenscliff, Bellarine Peninsula