Tamarack Rentals
Welcome to Tamarack Rentals, Churchill, Canada. If you are looking for a convenient, independent and adventurous way to explore around Churchill, the Polar Bear/Beluga Whale capital of the world and a...
Read more
---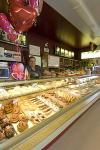 Gypseys Bakery
Welcome to Gypseys Bakery, Churchill, Canada. Whether you are in the mood for a charbroiled burger or a gourmet meal, Gypseys Bakery has it all. Owned and operated by the Da Silva family, this license...
Read more
---
Blue Sky Expeditions
Welcome to Blue Sky Expeditions, Churchill, Canada. Gerald Azure is the owner/operator of Blue Sky Expeditions. Born and raised in the Northern Métis Community of Cormorant, Manitoba. He is t...
Read more
---

Seaport Hotel
Welcome to the Seaport Hotel, Churchill, Canada. Located in the heart of Churchill, the Seaport Hotel offers a total of 21 modern rooms, (smoking and non-smoking available). All rooms at the Hotel hav...
Read more
---

Northern Lights Travel Lodge
Welcome to the Northern Nights Travel Lodge, Churchill, Canada The Northern Nights Travel Lodge was established in 1992 and over the years has gone under some reconstruction. It started out sm...
Read more
---
» Find more in Churchill, Hudson Bay