Canaveral Towers Resort
Oceanfront condo with panoramic Atlantic Ocean view. Near Orlando, Disney, Sea World, minutes from Port Canaveral. Cape Canaveral has great weather year-round, golf, fish, space center launches, shopp...
Read more
---
Coconut's on the Beach
Come enjoy our awesome oceanfront party deck where you can gaze at the ocean, enjoy your favorite drink and order some of our delicious food. COCONUTS serves everything from award-winning clam chowder...
Read more
---
Rusty's Seafood & Oyster Bar
New Rusty's Seafood & Oyster Bar was created as a cozy, come-as-you-are, fun filled alternative to Bernard's Surf. You can let your hair down from the minute you walk in and dive into oysters or clams...
Read more
---

Cocoa Beach Pier
Established In 1962, The Cocoa Beach Pier is a A Historical Landmark on the Florida Space Coast. We are located at 401 Meade Avenue, Cocoa Beach, FL 32931,(1/2 Mile North of 520, off A1A) Come visit ...
Read more
---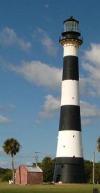 Cape Canaveral Lighthouse
Cape Canaveral Lighthouse is located on the Cape Canaveral Air Force Station and is generally not open for public access. There are seven locations of interest to lighthouse buffs in the Cape Canavera...
Read more
---
» Find more in Cape Canaveral, Brevard County