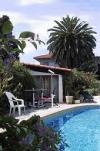 Le Castel Enchante
Situated in the heart of a floral paradise, the Bed and Breakfast Le Castel Enchante, in France Nice welcomes you all year round. 10 minutes from the Promenade des Anglais, in the Nice hills you will ...
Read more
---

Hotel Le Lausanne
The Hotel Le Lausanne, allures as much the sedentary type who appreciates the proximity from central town and the beaches as well as the more mobile type such as excursionists, sportsmen, congressmen,...
Read more
---

Hotel Crillon
At number 44 Pastorelli street, ideally located in the center of the town, stands the family Hotel Crillon,in Nice, France. You will notice the typical pink ochered painted facade, in the pure style ...
Read more
---

Hotel Locarno
Hotel Locarno, in Nice, France is located 80 meters from the famous " Promenade des Anglais " and 200 meters from the walking streets of the living center of the city. Open all year long, w...
Read more
---

Sea View Apartment
Sea View Apartment, is a wonderful, newly-renovated and fully-equipped Vacation Homes studio apartment located in a former palace in the heart of Nice France Old Town. The Vacation Homes Sea View Apa...
Read more
---
» Find more in Nice, Alpes-Maritimes