Romantik Hotel Johanniter-KreuzBook
Not far from Lake Constance, in Ueberlingen,Germany lies a former farmhouse, Romantik Hotel Johanniter-Kreuz Experience a one-of-a-kind ambience in a 300-year-old Romantik Hotel Johanniter-Kreuz &...
Read more
---

Hunting Lodge
Hunting Lodge in Ueberlingen, Germany equipped with a grill, offers a cozy atmosphere for get –togethers. Full service is catered by the hotel. Here at Hunting Lodge we have a very cosy atmos...
Read more
---

Villa Seeburg
The Villa Seeburg in Ueberlingen,Germany was remodeled and annexed by the hotel beginning in 1993. This building, which is situated about 50 meters from the hotel next to the lake, has been in existen...
Read more
---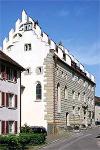 Metropolitan Museum of Ueberlingen
The Metropolitan Museum of Ueberlingen in Ueberlingen Germany has specifically found everyday objects that tells the stories of life in and around Ueberlingen from the Stone Age to the 19th Century. ...
Read more
---

Zahringer Hof
The quiet, relaxed, and personal ambience of Zahringer Hof in Ueberlingen,Germany will make you feel right at home. Begin your day with a hearty breakfast buffet, served between 8 am and 11 am...
Read more
---
» Find more in Ueberlingen, Bodenseekreis