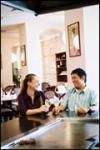 Cherry Blossom
Welcome to the Cherry Blossom, Japanese Restaurant, Cairns, Australia. Cherry Blossom Japanese Restaurant combines the freshest seafood from the Great Barrier Reef and other Australian fare with all ...
Read more
---

Bayview House Bed & Breakfast
Luxurious modern home. Spacious rooms with king, queen or single beds, all en-suite with colour t.v., air-conditioning, ceiling fans, hairdryers and clock radios. 0wn swimming pool. Extensive break...
Read more
---

Vagabond
Welcome to Vagabond Diving, Cairns, Australia. Departing from Cairns, Vagabond is a 65' luxury world cruising yacht set up for comfortable Diving, sailing and entertaining for a maximum of 11 guests ...
Read more
---

Rainbow Inn
Welcome to the Rainbow Inn, Cairns, Australia. The Cairns Rainbow Inn accommodation has 90 rooms and offers a choice of budget, standard, resort-style and 2 bedroom apartments with all amenities. Ca...
Read more
---

Beauty at Yorkeys
Welcome to Beauty at Yorkeys, Cairns, Australia. Cairns Beauty Salon - Beauty at Yorkeys, A Polished Performance Nails and Beauty - Yorkeys Knob Shopping Centre Cairns Beauty Salon-A Polished ...
Read more
---
» Find more in Cairns, County of Nares