Octopus Divers
Welcome to Octopus Divers, Dahab, Egypt. Octopus Divers pride themselves on being passionate, professional, and personalised in all the Red Sea scuba Diving trips. Whether scuba Diving with Octop...
Read more
---

Bishibishi Garden Village
Welcome to Dahab, South Sinai, Egypt and Bishbishi Garden Village, Backpackers paradise. Bishbishi's restaurant is located in the centre of the camp and offer delicious breakfasts, creamy and thick m...
Read more
---

Ali Baba Hotel
Welcome to The Ali Baba Hotel, Dahab, Egypt. The Ali Baba Hotel is situated in the heart of Dahab Bay overlooking the sea. The Hotel has been designed in a beautiful traditional Arabesque style (hand...
Read more
---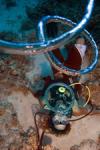 Poseidon Divers
Welcome to Poseidon Divers, Dahab, Egypt. Poseidon Divers is a long established group of dive centres that were the first PADI Career Development Centres and PADI National Geographic Centres in Dahab...
Read more
---

Mirage Village
The Mirage Village Hotel, Dahab, Egypt is situated on the beach in the northern part of Dahab, between the Lighthouse and Eel Garden dive sites. The Mirage Village Hotel and is well known for its frie...
Read more
---
» Find more in Dahab, Sinai Peninsula