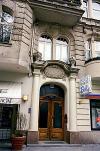 Hotel-Pension Bella
Welcome to Hotel-Pension Bella. You will find Hotel-Pension Bella in a very beautiful manorial house in the center of Berlin, Germany in an urban district called "Wi...
Read more
---

Park Hotel Blub
The Park Hotel Blub, Berlin, Germany, is a deluxe property that is strategically located only 4 kilometers from Tempelhof Airport. Park Hotel Blub offers both comfort and excellent service with ...
Read more
---

Berlin Marriott Hotel
Experience the modern elegance of the Berlin Marriott Hotel, ideally situated in Berlin´s Potsdamer Platz in Germany, a prestigious location for any business gathering. Just minutes ...
Read more
---

NH Berlin-Alexanderplatz
In the middle of the vibrant city atmosphere, in the lively quarter of Friedrichshain close to the centre of Berlín in Germany, the NH Berlin-Alexanderplatz welcomes you. Here...
Read more
---

The Mandala Hotel
Arrival, departure, and in between, at The Mandala Hotel in Berlin, Germany, you will find a second home. Welcome to the privately managed environment of The Mandala Hotel at Potsdamer Platz. &n...
Read more
---
» Find more in Berlin, Berlin