The Lighthouse Restaurant
Giuseppe Gatta, descendant of Baron Von Gatta, was born in Caravaggio, Italy, infamous for the Painter Michelangelo Merisi. Captain G. was born with cooking in his blood. After graduating from the ...
Read more
---

The Nautilus Apartments
The Nautilus Apartments are actually two "Town Houses". Each unit is completely self contained and has two bedrooms upstairs. Each bedroom has a spacious bath, large closets, and a balcony which overl...
Read more
---

Red Baron Divers
At Red Baron Divers we provide you with the ultimate diving experience by allowing you to relax and have fun. We know what it's like to carry your dive gear on and off the boats each day so, we take...
Read more
---

Eldemire's B&B Guest House
At Eldemire's, after having been around for 25 years, and knowing how to please our guests, we know you will enjoy your "Second Home". We can guarantee that you will be comfortable in our safe, tropic...
Read more
---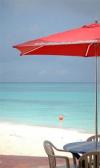 Reef Grill
Located in the heart of 7 mile beach is the Island's best known beach bar. Watersports, lounge chairs, great food, live music and the friendliest staff on the Island. The Reef Grill offers imaginativ...
Read more
---
» Find more in Grand Cayman, Grand Cayman