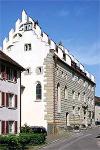 Metropolitan Museum of Ueberlingen
The Metropolitan Museum of Ueberlingen in Ueberlingen Germany has specifically found everyday objects that tells the stories of life in and around Ueberlingen from the Stone Age to the 19th Century. ...
Read more
---

Naturata Catering
Naturata Catering in Ueberlingen Germany offers a great catering service. Naturata Catering can do lunches, business meetings, conferences, birthday parties, weddings and just about any social or b...
Read more
---

The Hotel Cafe Restaurant Mokkas
The Hotel Cafe Restaurant Mokkas in Ueberlingen, Germany is the correct place for seminars, congresses, business lunches, weddings, birthday parties and other ceremonies. We will be pleased to mak...
Read more
---

Zahringer Hof
The quiet, relaxed, and personal ambience of Zahringer Hof in Ueberlingen,Germany will make you feel right at home. Begin your day with a hearty breakfast buffet, served between 8 am and 11 am...
Read more
---

Parkhotel
Settle into magnificent comfort at Parkhotel, Ueberlingen,Germany. Forget the hustle and bustle of everyday life, we'll make your trip unforgettable with an impressive variety of amenities ...
Read more
---
» Find more in Ueberlingen, Bodenseekreis