Jaipur Grille
Jaipur Grille, Toronto - Adopting a more contemporary and modern approach to Indian Cuisine, Executive Chef and owner Pawan Mahendro offers a delectable menu featuring savoury and flavourful curries a...
Read more
---

Spirits Bar and Grill
It's easy to get into the spirit of things at Spirits Bar and Grill in Toronto. A "very friendly" Downtown pub "with some class", which offers a dozen draft beers and "some cr...
Read more
---

Academy of Spherical Arts
The Academy of Spherical Arts in Toronto offers four rooms that can accomodate special events ranging from large corporate functions to intimate family affairs. They are also open to the public for lu...
Read more
---

Lowther House
Lowther House, a contemporary and casual downtown Toronto Bed and Breakfast accomodation is your city home away from home. Cloaked in the charm of a bright, comfortable and beautifully restored 100-ye...
Read more
---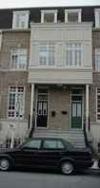 104 Earl Place
"Frank & Tan's new, upscale, modern & contemporary house located is located in the heart of Downtown. Just steps to Church Street Village and only 1 block from the subway at Yonge and Wellesley. We of...
Read more
---
» Find more in Toronto, Ontario