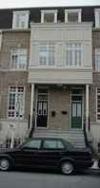 104 Earl Place
"Frank & Tan's new, upscale, modern & contemporary house located is located in the heart of Downtown. Just steps to Church Street Village and only 1 block from the subway at Yonge and Wellesley. We of...
Read more
---

Bright Pearl Seafood
Situated right on Spadina Avenue in the heart of Toronto 's Chinatown beside Kensington Market, Bright Pearl Seafood Restaurant offers exciting and exotic cuisine that is sure to please. The fish tan...
Read more
---

Shaw Street Guest Suites
Shaw Street Guest Suites... Your Hotel Alternative in Toronto- Come stay at the Shaw Street Guest Suites and have your own private fully furnished and equipped bachelor or Jr. one bedroom apartment. ...
Read more
---

Hard Rock Cafe
Toronto is an aboriginal word meaning "place of meeting." What an appropriate name for the most culturally diverse city in North America, plus the location of yet another great rockin' meeti...
Read more
---

Suite Dreams
Suite Dreams is pleased to offer contemporary, upscale ensuite accommodations in the Annex area of Downtown Toronto, on Bloor Street West. This new,contemporary house is located between Bathurst and ...
Read more
---
» Find more in Toronto, Ontario