Seascape Estate and Cottage Rental
For Rent - An exclusive 1920's Georgian style home in Chester, Lunenburg County, Nova Scotia, Canada S e a s c a p e Located in the picturesque seaside village of Chester, Nova Scotia. This new...
Read more
---
The Rope Loft
The historic Rope Loft, known locally as the Old Wharf, has been a landmark in Chester for nearly two hundred years and is one of the oldest buildings still in commercial use in Nova Scotia. In its ti...
Read more
---

The Captain's House
The Captain's House is under new ownership and management! Website Under Construction. Stay tuned for details! Renovation changes include new siding, inside and outside paint, roofing, landscaping, ...
Read more
---
Carolyn's Restaurant & Crafts
There are no services on Little Tancook Island, but , Big Tancook Island features a restaurant and craft shop called, Carolyn's Cafe & Crafts. It is conveniently located opposite the ferry wharf on B...
Read more
---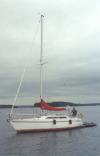 Cross Charters & Tours
Home Port - Chester, Nova Scotia, Canada. We operate 2 vessels that are available for crewed charters or tours. #1 sloop "Gabrielle II" is a 32 ft. Jeanneau Atallia. This vessel is ideal for groups...
Read more
---
» Find more in Chester, Lunenburg County