Crepe Montagne
Welcome to Crepe Montagne Restaurant, Whistler, Canada. An "authentic French crêperie," Crepe Montagne has been a Whistler hotspot since it opened in the fall of 1997, and has always...
Read more
---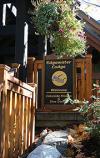 Edgewater Lodge
Welcome to Edgewater Lodge, Whistler, Canada. A private estate: 42 acres of the most beautiful forested property imaginable in one of Earth's more amazing settings. Spectacular dining and views. ...
Read more
---

Araxi Restaurant
Welcome to Araxi Restaurant, Whistler, Canada. A culinary cornerstone in the heart of Whistler Village, Araxi Restaurant holds an international reputation for excellence in food, wine and hospitality...
Read more
---

Bearfoot Bistro
Welcome to Bearfoot Bistro, Whistler, Canada. Extravagant, approachable, and undeniably fun, the Bearfoot Bistro boasts all the accoutrements of a five star dining establishment without the fuss and ...
Read more
---

Le Chamois
Welcome to Le Chamois Whistler Hotel, Whistler, Canada. Le Chamois Whistler Hotel BC Canada, from the moment you arrive in Whistler, British Columbia for your ski or summer holiday and enter Le Chamo...
Read more
---
» Find more in Whistler, British Columbia