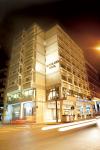 Crystal City Hotel
Crystal City Hotel enjoys a most convenient situation right in the centre of Athens, Aegean Sea, Greece, very close to the National Museum, Plaka square and the city's most prestigious sight, the Acro...
Read more
---
Akropol Restaurant Tavern
Akropol Restaurant Tavern has been loved and frequented by locals and visitors to Athens since we were first established 20 years ago. We are situated in the graphic Filomousa Square in the Plaka are...
Read more
---

Sofitel Spa
Welcome to Sofitel Spa in Athens, Aegean Sea, Greece. Discover our fitness center with sauna, indoor swimming pool with fabulous views over Athens International Airport and hair styling salon on the ...
Read more
---

Apollon Conference
Apollon Conference in Athens, Aegean Sea, Greece, sets a new standard in elegance and service. The endless blue of the sea and beautiful natural surroundings make an ideal backdrop for the special eve...
Read more
---

Vitro Restaurant
As you wander in the heart of the historical location of Acropolis, 20 meters from the metro and across the new museum of Acropolis, you will find the famous Vitro restaurant in Athens, Aegean Sea, Gr...
Read more
---
» Find more in Athens, Attica