Molenaars Droom
Bed and Breakfast Molenaars droom (the Miller's dream) is a dream of a bed and breakfast. The nineteenth century mansion is situated near the historic city center of Antwerp in a quiet residential ar...
Read more
---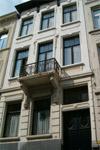 Bed & Breakfast Isabella
Welcome at Bed & Breakfast Isabella. This beautiful, stylish home, dating back to 1911, has maintained its authentic character, with its elegant staircase, mosaic and wooden floors, marble mantelpiece...
Read more
---

Scaldisnet
Scaldisnet, with its office in Brussels, wants to encourage, support and develop initiatives and projects around recreation, education and tourism with an accent on respect for nature and the environm...
Read more
---
Velvet Lounge
Antwerp has an excellent reputation in the field of fashion and food. Cities like London, Paris and Amsterdam have been considered the trendsetters for many years, but these days â?¦ Antwerp is prese...
Read more
---

Zoo Antwerpen
The Antwerp Zoo is one of the oldest and most famous zoos in the world. Its location - originally just outside the city walls, now an oasis of peace in the heart of the city, next door to Central Stat...
Read more
---
» Find more in Antwerp, Antwerp