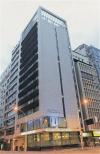 Portinari Design Hotel
The Portinari Design Hotel in Copacabana was conceived to be a unique accommodation option in Rio de Janeiro, Brazil. You will find a new concept in lodging at Portinari Design Hotel in the world fam...
Read more
---

Premier Copacabana Hotel
Six blocks from Copacabana Beach and three miles from Ipanema Beach, the 15-story Premier Copacabana Hotel stands within 10 kilometers of vibrant downtown Rio de Janeiro in Brazil, and Sugar Loaf Mou...
Read more
---

Porto Bay Conference
Porto Bay Conference in Copacabana, Rio de Janeiro in Brazil is located on the 4 th floor of Porto Bay Rio International Hotel, and is dominated by three modular function rooms decorated in a contempo...
Read more
---

Royal Rio Palace Hotel
The Royal Rio Palace Hotel is located in a privileged spot in Rio de Janeiro, Brazil, a few steps from Copacabana beach (one and a half blocks), and very close to the underground (metro) station. Roya...
Read more
---

Copacabana Palace Hotel
Located right on Rio's Copacabana beach, the Copacabana Palace Hotel is the most renowned hotel in Rio de Janeiro, Brazil, and has welcomed the rich and famous since 1923. A glamorous icon of the cit...
Read more
---
» Find more in Copacabana, Rio de Janeiro