Queens Theatre
Welcome to Queens Theatre, Adelaide, Australia. The Queens Theatre in Gilles Arcade/Playhouse Lane is the oldest purpose-built theatre on mainland Australia. Built in late 1840, it is of national her...
Read more
---

Saldechin
Welcome to Saldechin, Adelaide, Australia. At Saldechin you will find an ambiance of harmony and traditional Chinese tranquility far removed from the chaotic demands of everyday. The Saldechin Tea Ro...
Read more
---
Hilton Adelaide
Hilton Adelaide's 374 rooms include deluxe rooms, suites and an Executive Floor. Each guest room offers air conditioning, Foxtel Digital, pay movies and WiFi. Smoking and special needs rooms are avail...
Read more
---
The Energy Clinic (Fitness/Movement Centre)
Energy Clinic provides several ways, each of which leads to a healthier, fitter you. At Energy Clinic, we offer Pilates training, yoga classes, crossfit training and much more. We let you undergo a co...
Read more
---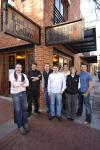 East End Cellars
Welcome to East End Cellars, Adelaide, Australia. East End Cellars was opened in January 1998 by Michael Andrewartha, an incurable wine fanatic with over twenty years experience in fine wine retail. ...
Read more
---
» Find more in Adelaide, South Australia