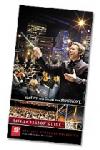 Winnipeg Symphony Orchestra
For 60 years the Winnipeg Symphony Orchestra has delighted audiences with its innovative programming and musical excellence. The Winnipeg Symphony Orchestra, Canada, has become the celebrated hub of W...
Read more
---

The Velvet Glove
Enjoy seasonal flavours showcasing Manitoban flare in Winnipeg's only Four Diamond CAA-AAA Restaurant. The Velvet Glove. The Velvet Glove offers professional and warm service. Be tempted at this Res...
Read more
---

The Norwood Hotel
At The Norwood Hotel, Winnipeg, Canada, it's the little things that make a difference like the crisp, clean sheets, a prompt wake up call, the desk clerk's friendly smile. The Hotel pays c...
Read more
---

The Fairmont Winnipeg
Embrace the spirit of this cosmopolitan city, whether experiencing its diverse culture, marvellous shopping or stunning cityscapes. Located in the heart of vibrant downtown Winnipeg,The Fairmont Winni...
Read more
---

Tuxedo Tennis Club
Tuxedo Tennis Club, Winnipeg, Canada, is a non-profit, public club that promotes fitness, recreation, community, and the sport of Tennis for everyone. The club is run by a volunteer executive with stu...
Read more
---
» Find more in Winnipeg, Winnipeg Capital Region