Hotel Candido
In renowned Diano Marina, Italy the Hotel Candido, enjoys excellent position 50 meters from the sea. Managed directly by offering availability, kindness and sympathy, in a strictly family atmosphere. ...
Read more
---

Hotel Torino
Welcome to the Riviera of Flowers,a land of many colors, where it's spring all year round! Since 1947 the Giordano family own and manage the Hotel Torino in Diano Marina, Italy with passion and ...
Read more
---
Hotel Royal Esplanade
Situated in one of the most beautiful zones of the Riviera dei Fiori, the Riviera of Flowers, and located in a central but quiet part of Diano Marina, Italy 150 mt. from the beach, the Hotel Royal Esp...
Read more
---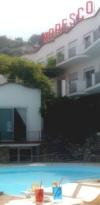 Hotel Moresco
The Hotel Moresco, in Diano Marina, Italy is a charming typical Mediterranean hotel with arcades, terraces, palms and olive-trees gardens. While staying at the Hotel, in a quiet area of Diano Ma...
Read more
---

Residence La Carruba
Residence La Carruba in Diano Marina, Italy offers great Vacation Homes.Directly operated by three owners generations for more than 40 years, consists of 3 villas, each with 6 apartments. In a locati...
Read more
---
» Find more in Diano Marina, Imperia