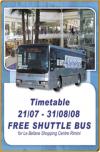 Le Befane Shopping Centre
Make your life easier! The vast range of quality services and handy amenities at Le Befane Shopping Centre in Rimini (Italy) take you that bit closer to stress free shopping. Helping you to plan and...
Read more
---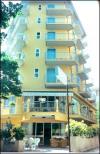 Hotel Jorena
Hotel Jorena,is a modern and comfortable establishment, recently renovated and situated in Rimini (Italy). Jorena Hotel in Rimini, the perfect place for all who wish to spend their holiday in a...
Read more
---
Rimini Terme
This thermal spa Rimini Terme (Italy) is situated directly on the beach overlooking the sea. Its strengths lie in the thalassotherapic treatments it offers, which come from the Greek word "thalas...
Read more
---
Hotel Ricchi
A hotel rich in traditions, history and experience in a renewed atmosphere that maintains its hospitality. The recent renovation at Hotel Ricchi rends it particulary elegant and confortable, ad...
Read more
---

B&B Sweet, homesweet
Near to the town and beach, with large balconies facing San Marino and surround area, you will have the use of a bedroom with 1 or 2 beds, TV room, kitchen, bathrrom and, if desired, a garden with org...
Read more
---
» Find more in Rimini, Rimini