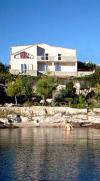 Villa Sole
Welcome to Villa Sole, Korcula, Croatia. Located in a seaside bay in the serene settlement coastline of Soline, 4km from the old town of Korcula, Villa Sole provides a peaceful retreat in tranquil sur...
Read more
---

Hotel Bon Repos
Welcome to Hotel Bon Repos, Korcula, Croatia. The Hotel Bon Repos is built in typical style of 70's architecture. The Hotel is positioned right on the seashore of Korcula Luka Korculanska Beach, in t...
Read more
---

Restaurant Grubinjac
Welcome to Restaurant Grubinjac, Korcula, Croatia. Restaurant Grubinjac is a small place located at one of the most beautiful panorama spots around Korcula Old Town. It is created out of the old farm...
Read more
---

House Rondina
Welcome to House Rondina, a Self Catering Apartment in Old Town, Korcula, Croatia. House Rondina offers double and single rooms as well as one Self Catering Apartment that can accommodate up to 5 peo...
Read more
---

Lesic Dimitri Palace
Welcome to Lesic Dimitri Palace, Korcula, Croatia. Lesic Dimitri Palace was presented, for the first time, at the recent seminar on "The importance of special interests tourism for sustainable ...
Read more
---
» Find more in Korcula, Dubrovnik-Neretva