Hotel Marko Polo
Recently renovated Hotel Marko Polo in Korcula consists of a reception hall, a restaurant, a café, an aperitif bar, a souvenir shop and a TV salon. The hotel has 94 rooms, capacity 210 pe...
Read more
---

Didovic Zrnovo Cottage
Welcome to Didovic Zrnovo Cottage, a Self Catering Cottage in Korcula, Croatia. This is a unique opportunity to experience the real rural life at the Island of Korcula. The 150 year old little cottage...
Read more
---

Hotel Liburna
Welcome to Hotel Liburna, Korcula, Croatia. Hotel Liburna is built in a traditional style of white Dalmatian stone on a tiny wooded peninsula of Luka Korculanska, to harmonize with its surroundings. ...
Read more
---

Korcula Town Museum
Although the Old Town of Korcula as a whole is a Museum on its own, there are couple of 'proper' Museums in Korcula with exhibition of objects relevant to history of Korcula. Most of them are located ...
Read more
---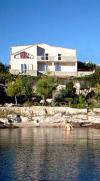 Villa Sole
Welcome to Villa Sole, Korcula, Croatia. Located in a seaside bay in the serene settlement coastline of Soline, 4km from the old town of Korcula, Villa Sole provides a peaceful retreat in tranquil sur...
Read more
---
» Find more in Korcula, Dubrovnik-Neretva