Swiss Inn Resort
Hidden in the vast desert and majestic mountains of the Sinai, lies the resort of The Swiss Inn Resort, Dahab, Egypt. Dahab means "gold" in Arabic and is a paradise for surfers and di...
Read more
---

Octopus Divers
Welcome to Octopus Divers, Dahab, Egypt. Octopus Divers pride themselves on being passionate, professional, and personalised in all the Red Sea scuba Diving trips. Whether scuba Diving with Octop...
Read more
---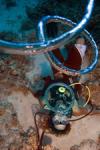 Poseidon Divers
Welcome to Poseidon Divers, Dahab, Egypt. Poseidon Divers is a long established group of dive centres that were the first PADI Career Development Centres and PADI National Geographic Centres in Dahab...
Read more
---

Club Red
Club Red was opened in 1995 and you'll find Club Red on the beach in the heart of Dahab, South Sinai, Egypt. Club Red,offers all PADI scuba courses from Discover Scuba to Dive Master. Club Red's instr...
Read more
---

Lighthouse Dive Centre
Welcome to The Lighthouse Dive Centre, Dahab, Egypt. The Lighthouse Dive Centre has been in operation for 7 years in the Sinai peninsula. Its name was taken from the most popular Dahab dive site whic...
Read more
---
» Find more in Dahab, Sinai Peninsula