Raglan Area School
Greetings and a warm welcome to the Raglan Area School in Raglan, New Zealand. The Principal is proud of this School in Raglan and its learning communities, proud that it is responsive to the needs a...
Read more
---

Beachfront Cottage
Welcome to the Beachfront Cottage in Raglan, New Zealand. The Beachfront Cottage is a Self Catering authentic New Zealand style Beach Cottage with all the charm of yesteryear, surrounded by pretty la...
Read more
---

Dream View Farmstays
Welcome to Dream View Farmstays in Raglan, New Zealand. This fully self contained unit sleeps up to 3 people and has all the modern amenities like Television, DVD player, modern kitchen utensils. ...
Read more
---

Petals
Welcome to Petals, Raglan, New Zealand. Petals organises Same Day Delivery of flowers and gifts to Raglan, Secure online shopping for Raglan, Beautiful flowers delivered by local florists to Raglan! ...
Read more
---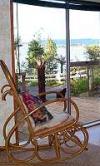 Bayview Chalet
Welcome to this cosy attic-style Self Catering holiday home, the Bayview Chalet in Raglan, New Zealand. The Bayview Chalet in Raglan is nestled beside beautiful native bush, enjoying the ambience of ...
Read more
---
» Find more in Raglan, Raglan