Tel Aviv Brewhouse
The Brewhouse is a brewhouse holding three home-made beers on tap, yellow, red and brown, really nice! and hosts one of the nicest kitchens in tel-aviv, some really nice dishes.. well spiced and nicel...
Read more
---
C.T.O LTD
C.T.O LTD established 1969 is the leading company for weekly regular tours in Israel in various languages English, Spanish, German, Dutch, Italian etc., with extension tours to the middle east region,...
Read more
---
Armon Hayarkon Hotel
Located in one of Tel-Aviv's most lucrative areas, Hayarkon street, just walking distance from the sea, Marina, bars, clubs, cinemas, shopping centres and ethnic restaurants. Also, Tel-Aviv's domestic...
Read more
---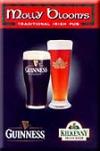 Molly Bloom's Irish Pub
Molly Bloom's Traditional Irish Pub gives visitors a taste of Irish pub hospitality. Molly Bloom's invites you to come inside and enjoy the friendly atmosphere in the heart of Tel Aviv, Israel. Now ...
Read more
---
Nando's
Chicken Revolution. Portuguese-style flame grilled chicken....
Read more
---
» Find more in Tel Aviv, Tel Aviv