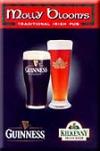 Molly Bloom's Irish Pub
Molly Bloom's Traditional Irish Pub gives visitors a taste of Irish pub hospitality. Molly Bloom's invites you to come inside and enjoy the friendly atmosphere in the heart of Tel Aviv, Israel. Now ...
Read more
---

K-Tours Tel Aviv
K-Tours Tel Aviv is a young, dynamic and fully-licensed company. Established in 1993 as a service center for K-Tours BV Holland, we have since grown into an fully operational independent tour-operator...
Read more
---
Abratel Suites Hotel
The exciting spirit of the new millennium promises the introduction of new ideas. The Abratel Suites Hotel was designed to meet the demands of the new century's busier-than-ever executive. The Abrat...
Read more
---
C.T.O LTD
C.T.O LTD established 1969 is the leading company for weekly regular tours in Israel in various languages English, Spanish, German, Dutch, Italian etc., with extension tours to the middle east region,...
Read more
---

Walkways Adventure Tourism
Walkways is dedicated to Adventure Tourism in the Middle East. Hiking and biking tours, customed designed to your needs, in Israel, Egypt and Jordan. Walkways is owned and operated by Chaim Rockman,...
Read more
---
» Find more in Tel Aviv, Tel Aviv