Abratel Suites Hotel
The exciting spirit of the new millennium promises the introduction of new ideas. The Abratel Suites Hotel was designed to meet the demands of the new century's busier-than-ever executive. The Abrat...
Read more
---

K-Tours Tel Aviv
K-Tours Tel Aviv is a young, dynamic and fully-licensed company. Established in 1993 as a service center for K-Tours BV Holland, we have since grown into an fully operational independent tour-operator...
Read more
---
Armon Hayarkon Hotel
Located in one of Tel-Aviv's most lucrative areas, Hayarkon street, just walking distance from the sea, Marina, bars, clubs, cinemas, shopping centres and ethnic restaurants. Also, Tel-Aviv's domestic...
Read more
---

Tel Aviv Museum of Art
The Tel Aviv Museum of Art, Israel's main art museum, first opened to the public in 1932 in the home of Tel Aviv's first mayor, Meir Dizengoff. The Museum quickly became the cultural center of the Tel...
Read more
---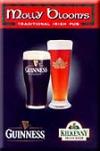 Molly Bloom's Irish Pub
Molly Bloom's Traditional Irish Pub gives visitors a taste of Irish pub hospitality. Molly Bloom's invites you to come inside and enjoy the friendly atmosphere in the heart of Tel Aviv, Israel. Now ...
Read more
---
» Find more in Tel Aviv, Tel Aviv