Hotel Taormina
Hotel Taormina,is conveniently situated in a peaceful zone, near the sea and in the centre of Riccione (Italy). It's renovated structure is totally air-conditioned and deprived of architectural barr...
Read more
---

Hotel Brig
Staying at a hotel and feeling at home, changing the colours and the light and adding the sound of the sea. The beach is just a stone's throw away and the rooms offer views that span the waves&hellip...
Read more
---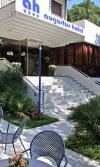 Hotel Augustus
The Hotel Augustus is located in the town centre of Riccione (Italy), a few steps from the sea and from Viale Ceccarini, surrounded by age-old pine-trees in an oasis of absolute peace and tranquillity...
Read more
---

Hotel Select
Hotel Select Riccione (Italy) Hotel Select,is the ideal setting for your stay in Riccione, just 30 metres from the sea, finely furnished with attention to every detail. Caring staff always eager to ...
Read more
---

Hotel Delfino
Hotel Delfino Riccione: 30 Meters from the seaside, in a quiet place, only few steps away from the well-known shopping area in Riccione (Italy), large parking area, air-conditioned dining room, garden...
Read more
---
» Find more in Riccione, Rimini