Hotel Locarno
Hotel Locarno, in Nice, France is located 80 meters from the famous " Promenade des Anglais " and 200 meters from the walking streets of the living center of the city. Open all year long, w...
Read more
---
Hotel Negresco
Built in 1912, overlooking the famous Bay of Angels, and classified a National Historic Monument in 1974, the Hotel Negresco, in Nice, France is one of the few remaining privately owned palaces still ...
Read more
---

Villa Oriental
New to the rental market, Villa Oriental, in Nice France is a beautiful 5 bedroom villa with pool. Furnished entirely with Asian furniture from Hong Kong, China, Indonesia and Japan. Each room has bee...
Read more
---

Arche
Let's go back to the 70's when the Shop Arche in Nice France began. Just for fun, because lately it seems that the 70's are recycled, paradied, resurrected with a mixture of nostalgia and fatality. ...
Read more
---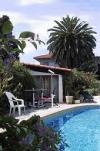 Le Castel Enchante
Situated in the heart of a floral paradise, the Bed and Breakfast Le Castel Enchante, in France Nice welcomes you all year round. 10 minutes from the Promenade des Anglais, in the Nice hills you will ...
Read more
---
» Find more in Nice, Alpes-Maritimes