Café de l'horloge
The Aston Golden Tulip Hotel is famous in its own right and is becoming more so as the location of Nice's trendiest restaurant, Café de l'horloge. Upscale French cuisine, including fillet of duck bre...
Read more
---

Villa Aimee
The Villa Aimee, in Nice France is a lovingly restored belle-epoque b&b in the stylish Cimiez district. It has only three rooms but if you can bag one, they are excellent value. When we bought the...
Read more
---

Arche
Let's go back to the 70's when the Shop Arche in Nice France began. Just for fun, because lately it seems that the 70's are recycled, paradied, resurrected with a mixture of nostalgia and fatality. ...
Read more
---

Tara Jarmon
An encounter : between a businessman, David Jarmon, and a young and lovely Canadian student, Tara. They combined their talents and gave birth to a project : a line of clothing. He manages it, she is i...
Read more
---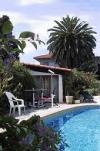 Le Castel Enchante
Situated in the heart of a floral paradise, the Bed and Breakfast Le Castel Enchante, in France Nice welcomes you all year round. 10 minutes from the Promenade des Anglais, in the Nice hills you will ...
Read more
---
» Find more in Nice, Alpes-Maritimes