Hotel Locarno
Hotel Locarno, in Nice, France is located 80 meters from the famous " Promenade des Anglais " and 200 meters from the walking streets of the living center of the city. Open all year long, w...
Read more
---
Villa La Lezardiere
Bed and Breakfast Villa La Lezardiere, in Nice, France is accommodation at the Cote Azur on the hills at the east side of Nice. With only , 5 km to Villefranches sur Mer, 4 km to Nice center, 15 km to...
Read more
---
Café de l'horloge
The Aston Golden Tulip Hotel is famous in its own right and is becoming more so as the location of Nice's trendiest restaurant, Café de l'horloge. Upscale French cuisine, including fillet of duck b...
Read more
---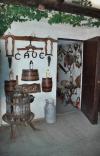 Domaine De La Source
The Wine grapes are picked at Domaine De La Source in December, when the fruit is ripe. It is one of the smallest vineyards of France, nestled in the hills of Nice France. Since 1941, "Bellet&quo...
Read more
---
The Chantecler
The CHANTECLER, One of the best restaurants in Nice. Michelin Guide award winning. An enchantment to the eye and the palate alike. In a dining room Regency style decoration with magnificent XVIII c...
Read more
---
» Find more in Nice, Alpes-Maritimes