Orca Dive Centre
Welcome to Orca Dive Centre, Dahab, Egypt. The Orca Dive Centre was opened in July 1998 and is a superb beach centre location with great staff and excellent equipment. The Diving Centre quickly gain...
Read more
---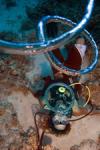 Poseidon Divers
Welcome to Poseidon Divers, Dahab, Egypt. Poseidon Divers is a long established group of dive centres that were the first PADI Career Development Centres and PADI National Geographic Centres in Dahab...
Read more
---

Club Red
Club Red was opened in 1995 and you'll find Club Red on the beach in the heart of Dahab, South Sinai, Egypt. Club Red,offers all PADI scuba courses from Discover Scuba to Dive Master. Club Red's instr...
Read more
---

The Blue Beach Club
Welcome to The Blue Beach Club, Egypt, located just beyond the hustle and bustle of Dahab bay. Within a five minute walk from the famous Eel Garden dive site, the Hotel boasts a fresh water swimming ...
Read more
---

Hilton Dahab Resort
Welcome to the Hilton Dahab Resort, Egypt. The Hilton Dahab Resort Hotel has its own private beach and on-site diving school. Soak up the sun at the sleek outdoor pool or try scuba diving or windsurf...
Read more
---
» Find more in Dahab, Sinai Peninsula