Haralds
Welcome to Haralds Restaurant, Tampere, Finland. Haralds Restaurant, Tampere Viking milieu takes you and your friends on a voyage back to the age of the Vikings, where food and drink highlight the fe...
Read more
---

Holiday Inn
Welcome to Holiday Inn Hotel, Tampere, Finland. The Holiday Inn Hotel is a first class business hotel in the city centre next to the Tampere Hall and the University of Tampere. The best shopping stre...
Read more
---

Hotel Victoria
Welcome to the Hotel Victoria, Tampere, Finland. Hotel Victoria offers comfortable accommodation and a variety of additional services at the lowest rates in the center of Tampere. Hotel Victoria i...
Read more
---

OConnells Irish Bar
Welcome to OConnells Irish Bar, Tampere, Finland. OConnells Irish Bar has gone from strength to strength since then and is at the center of the St. Patrick's day festivities in Tampere as...
Read more
---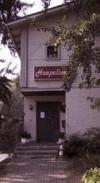 Hotelli Haapalinna
Welcome to Hotelli Haapalinna Hotel, Tampere, Finland. Our Hotel is an excellent choice for groups. We have parking space for busses also. We have 20 rooms from single to a large combi room with a s...
Read more
---
» Find more in Tampere, Tampere