Tampere Theatre Festival
...
Read more
---

Plevna Brewery
Welcome to Plevna Brewery, Tampere, Finland. Whether you like dark or pale lager, stout or wheat beer, all these tasty beers, and many more, can be enjoyed in the historic surroundings of the Plevna ...
Read more
---

Bodega Salud
Welcome to Bodega Salud Restaurant, Tampere, Finland. Bodega Salud is probably Tampere's favorite Restaurant. Thanks to Salud's unique intimacy, the Spanish & Latin American Restaurant hall you c...
Read more
---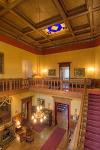 Finlayson Palace
Welcome to Finlayson Palace Restaurant, Tampere, Finland. Finlayson Palace, Restaurant offering the traditional Continental cuisine, is surrounded by a beautiful park. In the summertime, we also serv...
Read more
---

Omena Hotel
Welcome to the Omena Hotel, Tampere, Finland. Omena Hotel Tampere. Tampere is a thriving centre of culture, science, art and education. Situated at the isthmus between Lake Näsijärvi and La...
Read more
---
» Find more in Tampere, Tampere