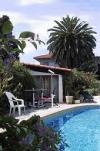 Le Castel Enchante
Situated in the heart of a floral paradise, the Bed and Breakfast Le Castel Enchante, in France Nice welcomes you all year round. 10 minutes from the Promenade des Anglais, in the Nice hills you will ...
Read more
---

Holiday Inn Resort
The Hotel Holiday Inn Resort, Nice-Port St. Laurent is the hotel in Nice, France area overlooking the breathtaking sandy beach of the " Baie des Anges " and benefits from its unique "wa...
Read more
---

Hotel Le Lausanne
The Hotel Le Lausanne, allures as much the sedentary type who appreciates the proximity from central town and the beaches as well as the more mobile type such as excursionists, sportsmen, congressmen,...
Read more
---
The Chantecler
The CHANTECLER, One of the best restaurants in Nice. Michelin Guide award winning. An enchantment to the eye and the palate alike. In a dining room Regency style decoration with magnificent XVIII c...
Read more
---

Christian Plumail
Christian Plumail, is a chef with sublime Southern cuisine in Nice, France. With him, imagination failed before that the truth of the product and light compositions. At the gates of the old city and 5...
Read more
---
» Find more in Nice, Alpes-Maritimes