Villa La Citronneraie
Villa La Citronneraie, is located on a hill of Nice France and the main-house is situated on the upper level of the property. In this main-house you find the big living room, the kitchen and 5 of the...
Read more
---

Holiday Inn Resort
The Hotel Holiday Inn Resort, Nice-Port St. Laurent is the hotel in Nice, France area overlooking the breathtaking sandy beach of the " Baie des Anges " and benefits from its unique "wa...
Read more
---

La Malmaison
Recently reopened after a complete renovation and with a new contemporary look, the Hotel La Malmaison, Nice, France is located in the heart of the world renowned city of Nice, on the beautiful Cote D...
Read more
---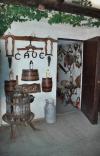 Domaine De La Source
The Wine grapes are picked at Domaine De La Source in December, when the fruit is ripe. It is one of the smallest vineyards of France, nestled in the hills of Nice France. Since 1941, "Bellet&quo...
Read more
---

Nice Diving Center
Nice Diving - Scuba Diving Center located in Nice, in the South of France. Your first diving experience, exploration dives, courses for all levels, diving equipment rental. Discover the fauna and f...
Read more
---
» Find more in Nice, Alpes-Maritimes