Metropol Hotel
Welcome to the Metropol Hotel, Sottomarina, Italy. Here you can expect great service. Metropol Hotel, Sottomarina offers a bar and inner parking area, a classified beach zone, perfectly equipped...
Read more
---

Pizzeria Grifone
The Restaurant Pizzeria Grifone, Sottomarina Italy, is situated in the central area within walking distance of the Waterfront Adriatic and the beach. Pizzeria Grifone is open every day, for lunch a...
Read more
---

Granso Stanco
Listen to the call of the Sea ... it's Granso Stanco Sottomarina, Italy, invinting you to enjoy it while trying all the tasty treats it offers you. The restaurant Granso Stanco features three differ...
Read more
---

Atmosfera
What started as a beautiful friendship in Sottomarina, a desire to test one's limits, an enthusiasm for living, the dare to achieve a dream. So was Atmosfera born offering new, pleasant and relaxing s...
Read more
---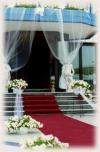 Hotel Real
Welcome to Hotel Real, Sottomarina, Italy, which is situated on the beach! Hotel Real guarantees an unforgettable stay, a warm familiar atmosphere, ensuring complete relaxation. The restaurant, with ...
Read more
---
» Find more in Sottomarina, Venice